Tips on how to clean silver jewellery
Start by cleaning the jewelry with eg toothbrush and detergent. Rinse and dry thoroughly.
Dip the jewelry in silver dip about 5-10 seconds, no more. Avoid dipping freshwater beads in the liquid.
Rinse the jewellery in clean water.
Rub hard and then polish with a clean impregnated polishing cloth, suitable for silver jewellery. Silver dip and polishing cloths are available in jewellery shops. These last a very long time. You should do this regularly to keep your jewellery looking good for a long time. In the online shop you will also find small Putsdukar.
Feel free to dip the jewellery again after using the polishing cloth. Wipe with a clean towel.
If you don't think it's enough...
Send the jewellery to me and I can clean it. I promise, it will be as good as new! Please enclose a self-addressed stamped envelope or send 30kr for the return postage to me on 0766-456444. The best way is to contact me beforehand so I know it's on its way. Please remember that you are responsible for the jewellery when you send it to me. Therefore, always send your jewellery using the Post Office registered mail service. You can also come to the shop and give it to me or put it in the post box at Brahegatan 32.
Note. Offer only applies to jewellery made by me, Amanda, at Name Jewellery.com.
Address: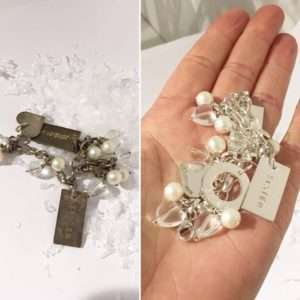 Amanda Egilson AB
Namnsmycken.com
Brahegatan 32
114 37 Stockholm
Dirty silver - Why has my jewellery turned black and discoloured?
It is possible to clean discoloured jewellery. Wherever sulphur is present, silver jewellery can become discoloured and black. It is said that silver oxidises. This is not entirely true, as oxidation is actually sulphidation i.e. a process in which sulphur combines to form a chemical compound with silver - silver sulphide, which forms a thin black film on the silver surface.
Sulfur is found almost over everything, in the air, on the skin (some drugs may affect), on painted surfaces, in fabrics, plastics, cigarette smoke, fossil fuels and rubber bands, etc. Oxidation can be puffed away with silverputsduk containing polishes that protect the freshly trimmed surface and delay the emergence of new blacking. The jewellery stays finer the more you use it.
Scratched silver jewelry?
Because silver is a relatively soft metal, the material is easily scratched when it encounters harder materials or other silver. When you receive your jewellery, it is very shiny and lustrous. That's because it's brand new, taken out of the last polishing bath. If you have a piece of jewellery with several name badges or charms lying against each other, abrasion will occur, resulting in tiny little scratches in the silver. These small scratches eventually cover the entire surface and the silver is no longer perceived as scratched, instead it is usually said that the silver has acquired a fine patina.
Complete your name badge
When you already have a namepiece from me and need to supplement it with a new name, it will be best if you contact me.
Whether you've been added to the family or if your family has changed in any other way, I'll help you further so that together we come up with the best solution. Usually a new name for an existing tile or a new tile for the new child. Basically everything can be solved!
Contact me by mail Amanda@namnsmycken.com or call/text for a quick response on 0766-456444.
The best result will be if you send your existing jewellery to me for thorough cleaning and re-assembly.
Address:
Amanda Egilson AB
NAMNSMYCKEN.COM
Brahegatan 32
11437 Stockholm
Good luck with your name jewelry!
Hugs
Amanda Egilson Hallgren
Tel; 0766-456444
Read more about care advice, cleaning and genuine silver in BLOG.